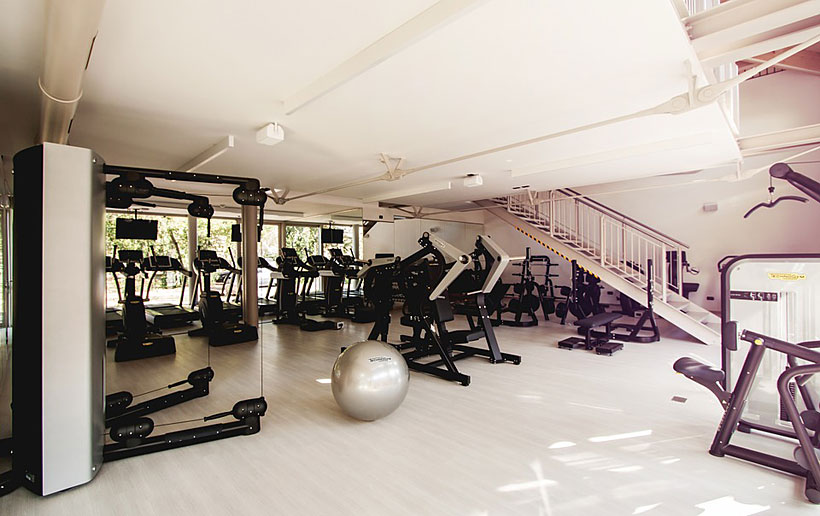 When most people come across the term home gym, they instantly think of a basement dungeon that consists of cheapo dumbbells and dusty old benches!
No one wishes to exercise in one of these places. This is the reason why you should design your home gym to be open, energizing and bright.
A gym that is well designed will not just motivate you to exercise; it will inspire you to boost your efforts when working out.
Five Design Tips to Help You Create a Stellar Home Gym
Here are five vital design tips required to design the ultimate home gym for optimal usage.
#1. Select The Largest Room Available
Areas that are cramped will reduce your motivation. So, if you have a small room, avoid packing it with equipment.  Even an area measuring 10 by 10 can be effective if it is not cluttered at all. If you have a smaller area than this, you only have space to do pushups, jump rope and planks. If open space is not available, you can set it up by choosing furniture. You can push a dining table (on castors) aside to create a workout space.
Do not train in an area with shelves. The reason is because they look disorderly and make you distracted when you are working out. Clutter will make you want to clean the area and you will not concentrate on working out. An area that is organized and uncluttered will enable you to exercise without disruption.
If you can, select a room consisting of a lot of sunlight and large windows. Natural light makes you energized and stimulates many positive chemical variations in the brain. It improves your mood and emits a greater feeling of cam. Therefore, you can set up a home gym, which is lovely, and bright, that will give you a sense of enjoyment. You will have extra energy and get the most from that area.
Remember that your bedroom should not be a part of your gym. Do not put that dumbbell set or stretching mat at the end of your bed. Your bedroom should be shut off completely. A workout routine that is healthy means getting sufficient sleep. The bedroom should serve two purposes; intimacy and sleep and should not be associated with anything else.
#2. Paint The Room Bright White
The next step you need to take to give you a sense of cleanliness and clarity in the room is to scrub it well and give it a new coat of paint. Avoid selecting a warm hue for your gym. Spaces that are warm-hued are relaxing, which can give you a sense of fatigue. A bright area makes you energized.
So, choose a shade of white, which will have maximum effect on your motivation and mood. White is energetic and bright and eggshell finish is recommended for the purpose of cleaning. It is not very shiny and can be wiped; this is best for a gym. A wet rag can clean sweaty handprints.
#3. Light Should Be Suitable
Track lighting is remarkably flexible. As the gym develops, you take away or add equipment. You can alter the lighting position as well. There are many light head designs as well as light temperatures for your selection. They are simple to switch out also. LEDs do not use a lot of energy and do not produce much heat like the usual incandescent. When buying light bulb for your home gym, choose 2,700-3,000 kelvin bulbs.
#4. Include a Full-length Mirror
This mirror is not only for selfies and flexing! They are installed in gyms to enable you to observe form and reduce the danger of injury. It is therefore vital to have one to avoid you pulling a hammy. It also motivates you when you note that you are making progress; it offers you feedback. The mirror needs to be big enough to allow you to view your whole body. It should be hung conspicuously on a wall. Remember not to lean it, as it will offer you an inaccurate view of your appearance.
#5. Install a Movable Sound System
We all know that nice tunes help to distract and energize you as you are working out. However, it does not mean that Sonos are the only ones you can listen to as you exercise. The UE Megaboom is the ideal remote speaker. It has a 100 feet Bluetooth range and gives out 90 decibels of a sound of 360 degree. It can be shifted throughout the house and you do not need to be fastened to a charger. On a single charge the battery gets 20 hours.
Benefits of Using a Professional Architect
When you use a professional architect to design your home gym, you can solve many complicated design issues. A professional architect can find the ideal solutions that are suitable for your requirements.
They are very dependable for managing the entire design project from beginning to end. They also supervise for the present design project and can organize a team of employees to carry out the task to depending on the plan.
After you recognize the advantages of engaging an expert architect, you will wish to get their assistance in designing your home gym. You can hire them to just get their professional opinions about the plans you have for the home gym to avoid you making any errors that could spoil the whole design.
Usually, a lot of the pre-drawn plans that you can access in a nearby store are simple to follow, if you comprehend each of the instructions. But, this might be a problem, as most of us do not have any experience in creating a design plan from inception.
Basically, it is better for you to use a professional architect to supervise you in realizing your plan. You should avoid the risk of trial and error as it can cause you to spend more money.
It is a great idea to get professional help from an online architect or designer. Today you can use online platforms like https://www.archsplace.com/architecture-services-online/ who provide affordable services.
The Bottom Line
Whether you decide to design and build your own home gym or hire a professional architect to do the job for you, the tips in this guide are a great place to start your build. In fact, most architects will design a home gym around this criteria, so if you decide to take on the task yourself, be sure to keep these guidelines in mind. If you do, you'll be fast on your way to creating a fantastic home gym that you'll not only love, but will use for many years to come.
About Shannon Clark
Shannon holds a degree in Exercise Science and is a certified personal trainer and fitness writer with over 10 years of industry experience.