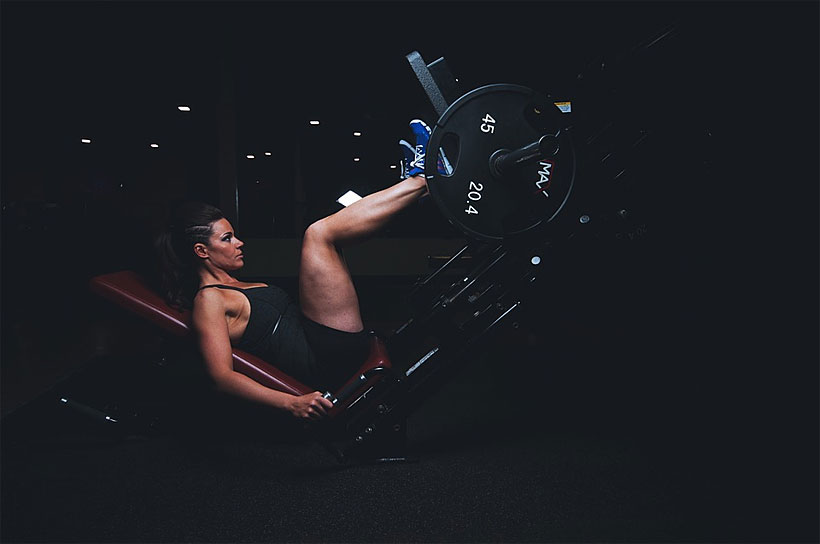 Legs are the foundation and essential movement mechanism for our entire body, yet many of us neglect them in favor of the upper body. This unfortunately leads to not only an unbalanced physique, but performance issues in sports and even day-to-day activities. Don't be one of those guys or gals that skip leg day!
While we will almost always recommend compound leg exercises like squats or lunges over any machine assisted exercise, machine exercises are still a great compliment to them, especially when you want to isolate specific muscles for rehab or bodybuilding.
That said, here is a look at five of the best leg workout machines, ideal to build your own home gym, and help you achieve peak all around lower body fitness.
Top Five Leg Workout Machines for Your Home Gym
Read on to learn more about each piece of equipment.
#1. TDS Vertical Leg Press
This is one of the best all around leg workout machine that can provide you with great results. The TDS Vertical Leg Press is ideal for strengthening your calves, hamstrings, quadriceps, and glutes at the same time. This machine is a complete package and great for fitness enthusiasts.
All you need to do to use this machine is lie on the padded rest to push away the weights from your body. Working out on this machine is super smooth, thanks to the heavy duty rollers fitted to it. It is one of the best options to consider if you are in search of a commercial grade leg workout machine suitable for your home.
Features:
Maximum capacity of stacking weight – 1000 lbs
Suitable for supporting both standard plates as well as Olympic weights
The stitched padding is 3 inches thick to provide you with the right comfort and safety for your back while you work out.
#2. Powerline Vertical Leg Press
If you are in search of a single machine to help you perform a full range leg workout, this is an option you will want to consider. The machine is direct in terms of design and lets you excel at your own efficiency.
As you lie horizontally, you can use the adjustment options to fix the beginning and ending positions in accordance to your height.
The best part of using this machine is that you will not be required to use any cord or pulley. Gravity, your body weight, and motivation is enough for you to get results of this best all around leg workout machine.
The Powerline Vertical Leg Press will serve the needs of an athlete or fitness enthusiast but isn't necessarily the best choice for hardcore bodybuilders.
Features:
The machine is built with a capacity of 400 lbs
The frame is designed of steel alloy to provide durability and support press plates of extra wide dimensions
The frame comes with a 10 year warrant from Powerline while the other parts are covered under 1 year warranty
#3. Body-Solid Pro Dual Leg and Calf Press Machine
If you want to enjoy the ultimate comfort while pushing your limits, this is the option for you. This model is all around just as durable as the other models offered by Body-Solid, however, the main difference is in the seat's ergonomic design that lets you adjust to 12 different positions. Itis supplied with DuranFirm pads that provide you with additional comfort.
Features:
The weight stack is as high as 210 lbs
The ratio for the weight is 2:1
It is one of the best all around leg workout machine for commercial usage
#4. BodyCraft Express Pro Leg Press Attachment
If you are a current owner of the BodyCraft Xpress Pro Home Gym, the BodyCraft Express Pro Leg Press Attachment is going to be an ideal option for you. This piece of leg press equipment complements that machine nicely.
This attachment will make use of the already added weights in the machine and spare you the pain of adding more weights. But it is not the only option. You can also add independent weight if you really want to use cords and pulleys. This may be your best solution to get in a great all around full body workout.
Features:
It offers a resistance of up to 400 lbs
The weight ratio is 2:1
The seat back can be easily adjusted
It comes with a lifetime warranty
#5. Husky Hip and Leg Sled Lower Body Gym
This machine is very practical and serves three purposes. The design is very simple and it is easy to use. You can use the machine for the leg press and it simply requires you lay on the bottom of the machine to perform the motion. If you want to use the machine for squatting, then all you need to do is stand on the area you would lie on.
The machine also provides an option for developing thrusting power. Instead of standing back up against the machine, you just need to face the machine while standing. As you transit from one workout to the next, you can easily adjust the back pad to suit your purpose.
Features:
The machine has its own storage for weight plates
The maximum capacity of the machine is 1000 lbs
This machine also comes with a lifetime warranty
The Bottom Line
These are some of the best all around leg workout machines to consider for total lower body fitness. While there are many other fitness equipment options on the market to suit your lower body workout needs, these options are perfect for your home gym because of their affordability and ease-of-use.
That said, definitely search the web to learn more about these particular models, and be sure to research other options as well, before you decide to fork over your hard earned dough. These machines are still quite the investment for most of us, but worth every penny in the long run. Happy leg day!
About Shannon Clark
Shannon holds a degree in Exercise Science and is a certified personal trainer and fitness writer with over 10 years of industry experience.