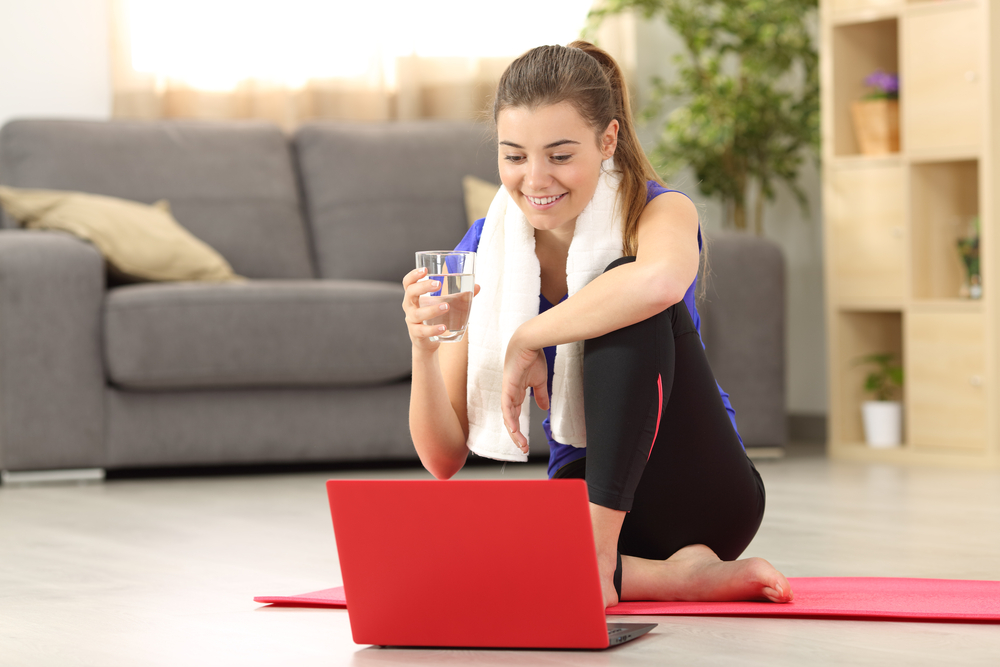 As someone who is devoted to being as healthy and fit as possible—at least, most of the time—you definitely want to follow a number of like-minded people on social media, blogs and other online sources.
The only problem with this idea, as you might have already noticed, is that there is no shortage of brands to follow online. If you Google "best health brands to follow," you'll get over 440 million hits.
To help pare down this number to a more reasonable quantity—and to help get you started on your quest to stay abreast of fitness people and brands—please consider starting with the following four suggestions:
#1. Natalie Jill Fitness
If you are inspired by people who were once overweight and found ways to shed their extra pounds, improve their health and turn their lives around, Natalie Jill Fitness is the ideal website for you. Natalie Jill has a blog and podcast on her site, and, as she likes to say, she enjoys killing fat for a living. For her, this means more than the excessive weight you might be carrying—it also means the "False Assumed Truths" or FAT that people tell themselves that prevent them from meeting their goals. Spend just an hour reading her blogs and watching a podcast and you'll be inspired to be your very best, both inside and out.
#2. The Rock
When you think about a super-fit dude who is definitely healthy as all get out, it's hard to beat Dwayne "The Rock" Johnson. Men's Health even named him as one of the best fitness Instagram accounts to follow, and for good reason. As they note, The Rock's Instagram page is about more than selfies—he features workouts that you can do at home (but you might have to go out and buy some chains first). Johnson also offers plenty of motivational posts encouraging people to do their best, and he shares his own personal workout routines for those days when you want to channel your inner WWF wrestler self and kick some serious behind.
#3. Salads for Lunch
Some bloggers can inspire you to workout. Others, like the founder of Salads for Lunch, encourage you to eat better. Like Natalie Jill, Janice Smith had gained unwanted weight along the way, and she discovered first-hand how nutritious food and exercise changed her life for the better. On her blog she shares plenty of recipes, as well as workouts you can do right at home with the help of everyday objects like an ottoman or merely a space on your bedroom floor.
#4. Larry Wheels

Just like his hero, The Rock (also on this list!), there is not much to dislike about this young man. At only 24 years of age, Larry Wheels is a bodybuilder and up and coming future strongman competitor. His channel has blown up as a result of his character, humble personality, and superhero-ish physique. If bodybuilding or strongman is your thing, you've got to follow this guy. We love him, and like his loyal fans, we too look forward to seeing him grow in character and strength. Go, Larry!
#5. Athlean-X
Athlean-X is one of the largest YouTube fitness brands with a whopping 7+ million subscribers. Jeff Cavaliere differs from many other fitness personalities in that he has the health and fitness knowledge that many only claim to possess. Jeff is a physical therapist and strength coach that has worked with a number of professional athletes and celebrities in his career. Jeff shares a wide variety of useful fitness tips and advice from postural correction to killer variations of popular exercises.
#6. Nick's Strength and Power

Last but not least on today's top 5 list is Nick's Strength and Power. Nick, like Jeff from Athlean-X, is yet another popular fitness YouTuber. While his current audience may only be a fraction of Jeff's, we've been watching Nick's channel grow like wildfire since we first discovered him. Nick almost exclusively covers bodybuilding news, coverage, and information. What we really appreciate about Nick is his honest approach and detailed analysis of the popular and controversial realm of bodybuilding.
(BONUS) Companies That Focus on Good Health
In addition to people who are devoted to sharing their secrets to good health with their online audience, you might also like to follow a number of companies that share these same goals. For example, Amway posts a number of videos on YouTube that not only highlight the company's Independent Business Owner program, but also its many products. The world-wide company is known for its cleaning supplies, but what else does Amway sell? Mainly health, fitness, and nutrition products, which include the company's line of Nutrilite supplements.
LARABAR, on the other hand, offers healthy snack bars and truffles, and its social media accounts will show you exactly how to pair the fruit and nut bars with other tasty treats. If you have a favorite protein powder, healthy fruit and nut bar and/or fitness products company, by all means Google them to see if they have an Instagram account and follow them too—chances are good that they do.
Start With These Six and Go From There!
To get started following fitness brands and people, you definitely cannot go wrong with these five suggestions. From companies and celebs to everyday people who have overcome health challenges and want to share their stories with you, there are plenty of blogs, social media accounts, and YouTube channels that are waiting to help you live a healthier life.