100 Abdominal Exercises: 4 Groups of Exercises
To keep things simple, you can target 3 different muscles in your mid section. Some argue that exercises which simply target the lower abdominals are not very effective, where others believe that lower abdominal exercises are a necessary component for a complete exercise program. While this is always debatable, if you're looking for the best results, a complete abdominal exercise routine is almost always going to be your best bet.
In this article we are going to take a look at 100 key abdominal exercises to help you achieve optimal results.
If you desire more definition in your abdominal region and a stronger core, this page is for you, however, before we get started, let's take a look at some basic abdominal anatomy so you have a better understanding of what you are going to be working on.
Basic Anatomy of the Abdominals
Rectus Abdominis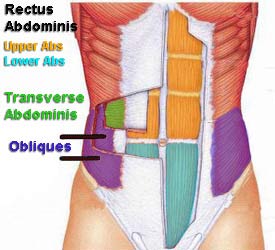 Your abdominals are the large muscle from your chest to your waist which look like a "six pack." Even though the transverse abdominis (TVA) or core muscle is a deep stabilizer of the spine, it helps stabilize your spine by building up intra-abdominal pressure and also pulls in at the belly button creating a tighter mid section.
Obliques
You also have internal and external obliques on both sides of your stomach. Your internal and external obliques work together to flex and rotate your lumbar spine in all 3 planes of motion.
---
100 Key Abdominal Exercises
Before You Watch the Videos of the 100 Best Abdominal Exercises Know This
There is no such thing as spot reduction. Not one of these abdominal exercises by itself or in combination will burn fat from your mid section. These exercises are great for strengthening your mid section which may cause a tightening in the waist and a slimming effect which could reduce your waistline, but you will not go from "flab to fab" with any of the 100 ab exercises alone. A balanced exercise program in conjunction with a healthy diet is always going to be your path to optimal results.
Visit a target area below to view the best abdominal exercises.
100 Abdominal Exercises: Upper Abs Exercise Videos
---
100 Abdominal Exercises: Lower Abs Exercise Videos
---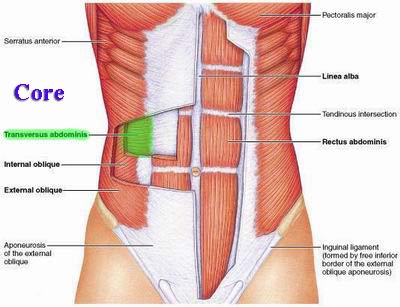 100 Abdominal Exercises: Core Exercise Videos
---
100 Abdominal Exercises: Obliques Exercise Videos