The BOSU Balance Trainer
The BOSU Balance Trainer is More Than Meets the Eye!
The BOSU Balance trainer or BOSU ball, is one of the newer generation of fitness products designed with core stability in mind. However, just because at its core the BOSU ball was designed for core stability, does not mean it is limited to only core exercises.
The BOSU balance trainer is so simple yet the balance training exercises you can perform with it can range from very basic to advanced, as you will read in this BOSU balance trainer review.
Who can Benefit From Using BOSU Balance Trainer?
The actual piece of equipment is made very well. The commercial version of the BOSU balance trainer is virtually indestructible and will last a very long time regardless of how much it is used. The durability of the BOSU balance trainer is nothing short of amazing as it can withstand everything that is thrown at them, including the violent impact of heavy people jumping on them.
---
| | |
| --- | --- |
| Primary Fitness Goal | Goal Specific Rating |
| General Fitness | |
| Weight Loss | |
| Muscle Building | |
| Strength Building | |
| Cardiovascular Fitness | |
| Injury Rehab/Prevention | |
Almost Everyone can Benefit From Using the BOSU Balance Trainer!
As you can see from the fitness goal chart above, the BOSU balance trainer can be used effectively for a variety of fitness goals. The people who may find the BOSU ball of the lowest value are people who are solely interested in maximal strength (i.e. powerlifters). Everyone else from out-of-shape cubicle workers, stay-at-home housewives, and even elite athletes, can all benefit by incorporating some BOSU ball exercises into their workout programs.
---
Home Gym Rating:


Is the BOSU Balance Trainer Good for a Home Gym?
The BOSU Balance Trainer is PERFECT for any home gym! There is very little reason NOT to have a BOSU balance trainer in your home gym. It is inexpensive, lasts forever, takes up very little space, and can be used for a huge variety of exercises.
Adding a second BOSU ball to your home gym is recommended as it will increase the number of BOSU ball exercises you can do dramatically. Another great thing about the BOSU balance trainer is it can be used inside or out and is a great compliment to exercises with other exercise equipment from dumbbells, to stability balls to cable machines.
---
Commercial Gym Rating:


Is the BOSU Balance Trainer Good for the Commercial Gym Setting?
BOSU balance trainers have been in commercial gyms since their inception. The limitation of having BOSU balance trainers in a commercial gym is safety and usability.
Since the BOSU just begs to be stood on, beginner exercisers which may make up a majority of gym members are a safety risk for the commercial gym. The infinite potential for BOSU ball exercises is not easily seen by novices. Therefore most of the BOSU balance trainers you see in the commercial gym setting are exclusively used by personal trainers or in group exercise classes.
---
Personal Trainers
Rating:


How is the BOSU Balance Trainer for Personal Trainers?
The BOSU balance trainer is a revolutionary tool for personal trainers to use with clients. Having a single or multiple BOSU balance trainers can expand a personal trainers repertoire of exercises almost exponentially. Using the BOSU a trainer can not only modify most exercises but can put the clients on a wide variety of other exercises.
Sample Exercises a Personal Trainer Could Have Clients do on a BOSU Balance Trainer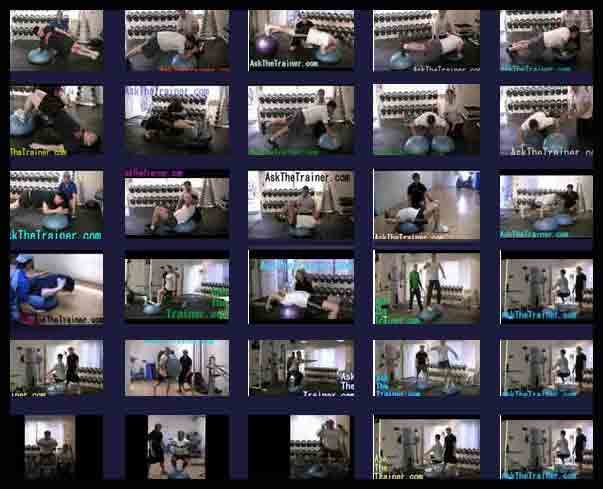 ---
BOSU Balance Trainer FAQ
Which Model of the BOSU Balance Trainer Should I buy?
The BOSU Balance Trainer comes in 4 models. It is highly recommended you purchase the PRO Balance Trainer. The BOSU Pro Balance Trainer is recommended because the durability is greater than all other models while the price is only slightly higher. Here is the basic information from BOSU about their 4 models of the BOSU Balance Trainer.
BOSU Elite Balance Trainer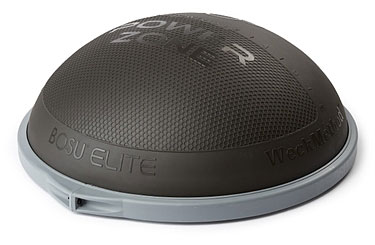 The BOSU Elite Balance Trainer is a specially designed version of the standard BOSU, ideal for fitness enthusiasts and athletes or anyone looking for the utmost in durability and performance.
BOSU states the Elite version was specifically designed to help improve athletic speed, power, body mechanics, and balance. If you're looking to develop performance in numerous athletic endeavors including: squatting, running, jumping, and agility, this is the version BOSU recommends. We would have to agree.
The BOSU Elite Balance Trainer has been constructed with a much firmer dome which is to to help spring load your body and intensify core exercises. It definitely accomplishes this as it is noticeably firmer compared to even the PRO Balance Trainer.
BOSU Pro Balance Trainer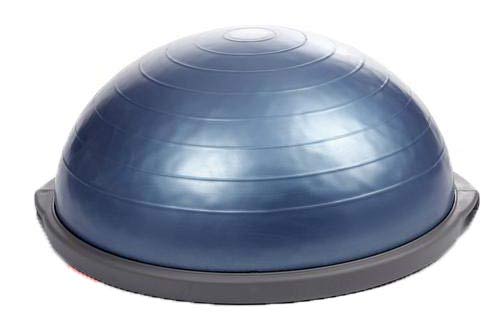 The BOSU Pro Balance Trainer is the higher-end Balance Trainer product. It is designed for unlimited use in a commercial facility. This is the version you will see in pretty much every gym.
It has a thicker bladder (dome) and a rubberized, non-marking overmold on the bottom platform (with no rubberized feet) for optimal grip on floors and more durability.
If you decide to go BOSU, we highly recommend the PRO version because while you will pay a little extra in the beginning, this model will last many many years, not to mention many of you will ultimately appreciate the extra firmness of this model over the home version.
PRO BOSU Balance Trainers come with a one-year commercial warranty.
BOSU Home Balance Trainer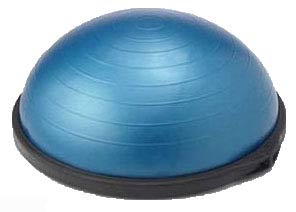 The BOSU Home Balance Trainer is intended for home use. The product is designed to perform for many years used within a home, but is not warranted for commercial use.
Because this version is not directed towards the commercial setting it is not as durable or as rigid as the PRO model. The platform (bottom) also has non-marking rubber feet to prevent slippage on floors.
If you're looking to save a few dollars, this model will be your best bet, however, the cost difference to move up to the PRO isn't staggering so we personally recommend the PRO version if you decide to go BOSU. However, regardless of what direction you decide to take, both the Home and PRO versions will be a fantastic addition to your home gym.
Home BOSU models come with a 30-day manufacturer warranty.
BOSU Sport Balance Trainer – 55 cm or 45 cm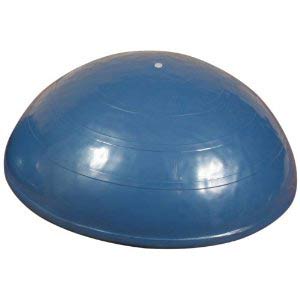 The BOSU Sport Balance Trainer is an entry-level Balance Trainer product. It costs less and is smaller than the Pro and Home versions, but one can still get an effective workout using this tool.
This product is meant to make the BOSU Balance Trainer most accessible for people on a tighter budget.
The smallest BOSU Sport Balance Trainer – 45 cm is ideal for sport-specific application using multiple units at once.
The smaller size enables you to position multiple units with close proximity to train specific athletic stances. These are also highly portable.
---
Where Can I Buy BOSU Balance Trainer?
The BOSU Balance Trainer is often available at sporting good stores, however, the best place to purchase one is more often than not online. Buying online insures that you know exactly which model you are getting for your money. Remember, the commercial version of the BOSU is going to be the best option for 90% of consumers looking at a BOSU balance trainer as it lacks the rubberized feet which tend to fall off with heavy use. In addition to its superior durability, it is also much more versatile than the other models. Below you'll find some of the best deals online.
See Also:
About Michael Behnken
Mike Behnken is a personal trainer who holds multiple NASM certifications and a MS in Exercise Science. Mike loves fitness, travel, and photography among many other interests.