Learn how BOSU Ball Workouts can Whip your Ass into Shape!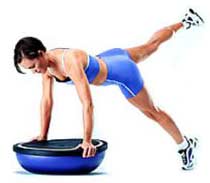 BOSU Ball Workouts are Non-stop, Fun, Challenging and Effective
As its name suggests the BOSU balance trainer allows you to work your balance. However, the BOSU balance trainer is not only limited to balance exercises.
This versatile fitness tool which no health club or home gym should be without can be used for strength, power, cardio, flexibility exercises, and balance training exercises.
A BOSU ball workout can be a very intense workout. The BOSU balance trainer allows you to work your body both anaerobically and aerobically with very little transition between exercises.
It is possible to center your entire workout around any number of BOSU balance trainers with or without any additional exercise equipment.
Benefit from BOSU Workouts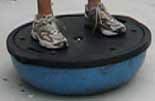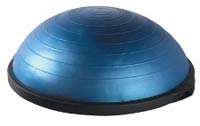 The BOSU balance trainer has the advantage over round stability balls because it is half domed. This allows for many unique benefits. This allows you to perform exercises on both sides of the BOSU. By using BOth Sides Up you can vary the degree of the balance needed to perform exercises as well as completely change some exercises around.
The BOSU balance trainer is durable and sturdy which allows you to perform many different types of jumping and explosive exercises which you could not do on any other piece of equipment. If you have more than one BOSU you can even do more exercises.
Yet another benefit of a BOSU ball workout is the weight which the BOSU carries. Each BOSU weighs around 13 pounds which allows you to use it as a form of resistance (weight) for exercises which isolate certain muscle groups as well as keep your heart rate up.
The best way to perform BOSU ball only workouts is non-stop. You can have different forms of exercises for multiple body parts and string them together in one very effective muscular strength and endurance and cardiovascular workout.
Each BOSU Ball Workout has Cardiovascular as well as Strength & Power Benefits
---
Can the BOSU Balance Trainer be Used with Other Equipment?
The BOSU can add a Manageable Balance Component to Most Free Weight Exercises
If balance is something you are concerned about improving you can stand on the BOSU balance trainer while you perform any movement with free weights.
This a great way to increase core stabilization and balance.
Since balance involves recruitment of more muscles, an entire free weights BOSU ball workout can also help you burn extra calories during your workout.
This is in addition to strengthening your stabilizer muscles and improving your balance.
In the video example (right) of BOSU squat w/ cable row you can see the constant movement (shaking) in the legs during the squatting motion.
This is because the instability of the BOSU causes the inner thighs, outer thighs and calves to contract to stabilize the body on the ball.
This motion without the BOSU would have far less muscle recruitment of the lower body.
You can Also Use the BOSU as a Weight Bench
Similar to stability ball exercises, you can place your upper shoulders, head and back on the BOSU to form a bridge like position and use it as a weight bench for presses, chest flies and basically all exercises which you could do on a weight bench.
Stability ball exercises are better for this use but if a BOSU is what you have, you can use it as an efficient weight bench.
If you move your body further forward compared to the picture (right) you can work your glutes, hamstrings and lower back statically while you perform upper body exercises.
If storage space is a concern, a BOSU is a better option than a stability ball or a weight bench for people with some goals.
---
Where can You Find a Good BOSU Ball Workout?
For more information about workouts and custom workout programs for your specific goals check out the workouts page.
---
Create your Own Efffectvie BOSU Ball Workouts with the Following Exercises
BOSU Ball Exercises
Get an idea for the method behind exercises for each body part which make up the best BOSU ball workout for your specific fitness goals and workout schedule
Workout Program Routines
Learn what exactly goes into a successful workout program. Learn how to maximize your time in the gym with the most effective exercises.
About Michael Behnken
Mike Behnken is a personal trainer who holds multiple NASM certifications and a MS in Exercise Science. Mike loves fitness, travel, and photography among many other interests.