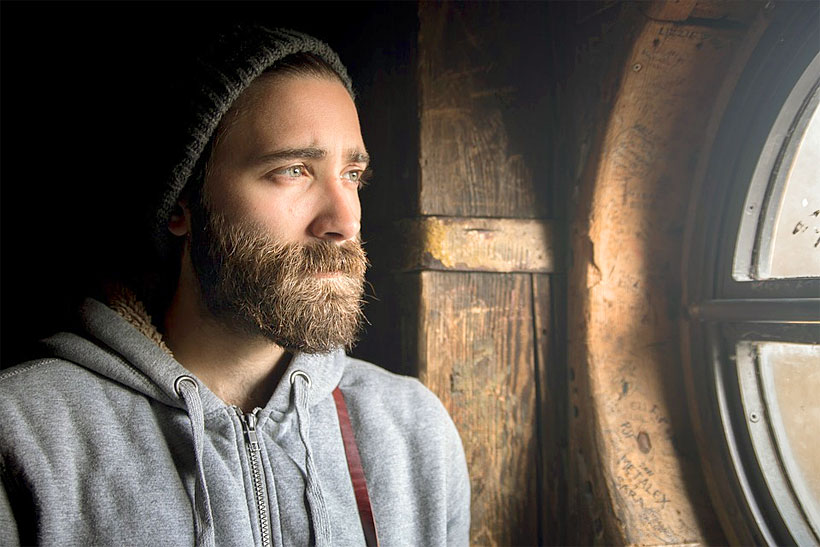 Currently, people are searching for products that can help them to grow a healthy and beautiful beard. For me, I think there are no such products; however, there are practices that help promote beard growth. One such practice is eating foods that will boost the production of the male hormone testosterone, which is associated with beard growth.
Thankfully, there are many foods that promote beard growth. Some boost the level of hormones and some supplement important beard nutrients to the follicles. Facial hair growth is enhanced by male hormones and so eating foods that boost such hormones can be the best way to grow a healthy, beautiful and long beard naturally.
To summarize, the best foods for beard growth help to:
10 Foods to Help You Grow a Healthy Beard
If you are looking for an easy and natural way to grow a health and beautiful beard, try to add these ten foods to your diet.
#1. Nuts
Nuts, especially the brazilin nuts are believed to increase the rate at which your beard grows. This is because of the selenium compound contained in the organic Brazilian nuts contains which is a vital mineral that boosts facial hair growth.
Note that you need to buy the organic nuts as those are the ones rich in Selenium and ensure to take 2 nuts a day.
#2. Potatoes
Potatoes are carbohydrates and for the body to manufacture the hormone testosterone, you need to integrate carbohydrates in your diet. Carbohydrates together with DHT help to boost beard growth. If you hate potatoes and you want to growth a healthy and beautiful beard, then your dream might not come true. So, ensure you eat at least two potatoes a day to increase the facial hair.
#3. Eggs
Proteins are vital when it comes to facial hair growth and eating foods that contain proteins and other important micronutrients are vital. Eggs are rich in proteins and biotin a mineral that is crucial when it comes to growing healthy and beautiful facial hair.
The cholesterol packed in Eggs is also important for the manufacture of testosterone, a hormone that is important for beard growth.In addition, Eggs are rich in lecithin, a compound that boosts the nervous system, such as the day to day functioning of the brain.
In order to realize a health and beautiful beard, you need to eat at least two Eggs per day. You can either cook them or prepare them as you like.
#4. Sorghum
Well, some foods we mention here are not known by many people, but they are good when it comes to growing a healthy and beautiful beard. An example of such foods is sorghum. This gluten-free grain is best when it comes to growing a fuller beard.
Sorghum is a powerful grain when it comes to increasing the synthesis of the enzymes which is necessary for converting testosterone to DHT- the hormone needed for the growth of facial hair.
#5.Beef
As we've mentioned above that the hormone testosterone is crucial when it comes to beard growth, red meat contains fatty-acid that is necessary for the manufacture of testosterone and so eating beef can boost your beard growth tremendously.
Beef is rich in proteins which facilitate natural facial hair growth.
#6. Gelatin
Gelatin contains amino acids which are responsible for supplementing the body with proteins. If you are looking for ways to grow a healthy and beautiful beard, then you need to add foods rich in amino acids as they are building blocks for proteins that help the body when it comes to the growth of hair, nails, and skin. Note that most of the amino acids in gelatin contain collagen proteins which make it the best food to stimulate facial hair growth.
#7. Fish
Fish is packed with a variety of micronutrients that are helpful to the body. Fish is rich In Vitamin B and is also a rich source of proteins which is necessary for the growth of hair and building of the skin. Moreover, fish is rich in omega-3s that is necessary for the protection of the cell membrane.
#8. White Button Mushrooms
You think white button mushrooms cannot boost beard growth? Well, this one is not known to many, but the truth is that they reduce the production of aromatase enzyme and estrogen levels. Note that aromatase enzymes are responsible for converting the hormone testosterone into the female hormone estrogen. If the aromatase enzyme level is higher, the testosterone hormones decrease. When your male hormones are converted into female hormones, then beard growth decreases.
#9. Orange Juice
Orange juice is rich in fruit sugar fructose which is necessary for lowering the sex hormone binding globulin- SHBG, a hormone that deters testosterone and DHT from being active in the body.
When the SHBG is lowered, testosterone and DHT remain active and hence facilitate the growth of strong and thicker follicles.
#10. Kale
We've also mentioned above that certain vitamins and minerals are important when it comes to growing of a healthy and beautiful beard and Kale is one of the foods that is rich in Vitamin A that is used by the body to repair skin tissues.Vitamin A is also a necessary compound for facial hair growth.
The Bottom Line

Chances are that you were not aware that certain foods that we consume regularly can facilitate the growth of a healthy and beautiful beard. It is worth noting that these foods are not responsible for beard growth, but they stimulate the production of the hormone testosterone that is necessary for beard growth.
Some foods contain beard growth vitamins and minerals and some stimulate the production of thyroid hormone which increases the beard growth rate naturally.
If you've been eating some or all of these foods and but you were not aware that they are beneficial when it comes to growing a healthy and beautiful beard, now you know, if you have never eaten any of them, then it's time you start adding them to your diet.
But as you eat these foods, you also ought to know that growing a beard does not happen overnight, it will take some time before you can start to see the results, so keep eating them and be patient.
About Jason Spencer
Jason Spencer has a tremendous enthusiasm for all facets of health, fitness and physical performance that stems from an athletic lifestyle from childhood. Jason was fortunate enough to compete in collegiate football and learned to love the challenges that physical activity placed on the body. As Jason progressed through his higher education and became increasingly aware of how science is applied to physical activity and how it reveals the benefits of exercise, he realized very quickly that he wanted to pursue a career that gives him the opportunity to teach others to compete, challenge, and push themselves towards something more valuable to them than anything else; health, fitness and self worth. Being a fitness professional allows Jason to do this for them and he is always incredibly grateful for that. Jason has a Bachelor of Science degree in Neuroscience from Muhlenberg College in Allentown, PA. Neuroscience and his acquired knowledge of the nervous system and muscle stimulation techniques has been extremely instrumental towards building a unique ability and feel for training the body for optimal form and function. As a personal trainer he is certified with ACSM (American College of Sports Medicine). He's also a strength & conditioning specialist with NSCA (National Strength & Conditioning Association). He has additional certifications in both kettlebell principles & techniques (Equinox), and Flexibility & Corrective Exercise (Swedish Institute of Health Sciences in NY). Jason has worked as a trainer and conditioning specialist in a variety of fitness facilities over the years such as: LA Fitness in Piscataway, NJ, the YMCA in Metuchen, NJ, and Equinox Fitness Clubs in New York, NY. He also does private in-home sessions all over the Manhattan area.