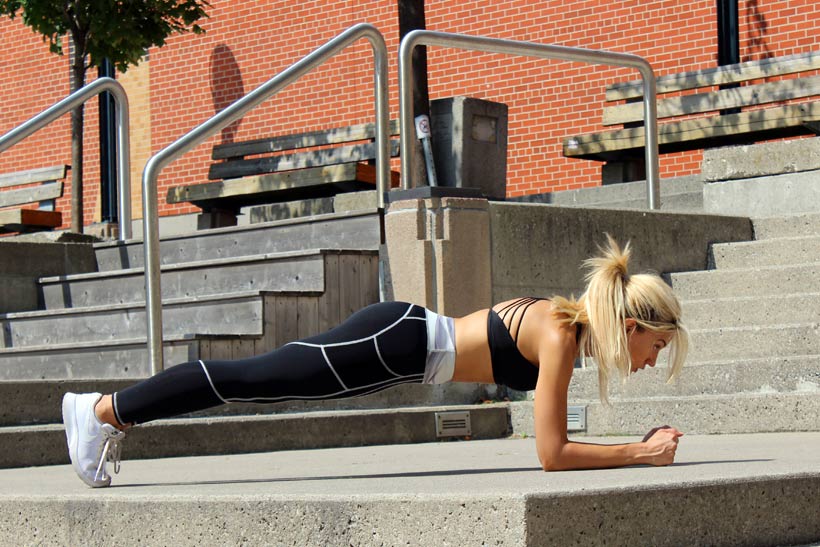 Performance-based activewear is a huge buzzword these days.We are constantly hearing about different designs and styles of fabric that are intended to make you more comfortable throughout your workout, enhance your performance, and make you look fabulous, all at the same time.
Companies like FitGal Activewear have brought to the table many stylish, high quality, and functional products to satisfy the increasing demand for performance enhancing women's activewear.
Everything from specialized fabrics that encourage moisture wicking, 100% squat proof leggings to functionality features like pockets are flooding the market.
These are just some of trends that have truly revolutionized how we think about workout wear and what we look for when buying it. Today, we have so much available to us that can help to make the toughest workouts a little bit more manageable. So why not take advantage?
Function and performance are as important as, if not more important than, the overall look and feel of workout clothing. So what exactly are the top practical features that are emerging with performance-based activewear and how are they changing the way we work out?
Here, we will go over the top trends that truly make a difference to your style, the quality of your overall workout, as well as how they can enhance your performance in and outside the gym.
#1. Athleisure
Wearing leggings is not something that only happens at the gym or when you are actually working out. Clothing that is both functional for working out and extremely stylish is probably the top trend that has emerged in this new activewear era. Today you can wear leggings to the gym, to brunch and some styles can even be worn at work!
Athleisure has reinvented not only how activewear is worn, but also when! With so many designs, patterns, lengths, and colors to choose from, there is a perfect style of leggings for every occasion. The best part, you ask? Functionality is truly dominating the market so many of these staple athleisure pieces are also incredibly functional for working out. Win-win.
#2. Four-Way Stretch
Functional, performance leggings should always be 100% squat proof. Four-way stretch material allows the fabric to move with your body and hug every curve without exposing anything that you don't want to be seen due to overly stretched out fabric. The quality of the material used has a direct effect on the likelihood that a pair of leggings will be totally squat proof.
Whether you're going to do intense cardio or you've got squats or deadlifts on the agenda, you won't need to worry because leggings with four-way stretch fabric will always have your back. You shouldn't have to think about which pair of leggings you're throwing on before heading to the gym. You should just be able to put them on and go! Look for four-way stretch material to ensure you're getting yourself a pair of leggings that will stand up to the toughest workouts.
#3. Moisture Wicking Fabric
Moisture wicking fabric pulls sweat away from your skin and to the surface to ensure you stay dry and comfortable for your entire gym session, not just the first 20 minutes. Sweat proof, functional activewear is the way to go if you go to the gym to actually work out.
The fabric itself is very different from cotton which can leave you feeling soaked – it pulls moisture away to the outside of your leggings to allow for fast drying so you don't have to feel weighed down by your attire. Have you ever put on a cotton t shirt for a workout and once you really start to warm up, immediately regretted it? That wet and sticky feeling is absolutely gross! We can't imagine working out in anything other than moisture wicking fabric blends now that we've seen the light!
#4. Body Contouring
Some gym-goers prefer a more comfortable fit, while others prefer their workout clothing snug. Body contouring or compression features on leggings and tops are an amazing way to create a smoother shape and ensure that everything stays put while you're doing high intensity exercise.
Whether you're strength training, doing cardio, enjoying a workout class or yoga, who doesn't want to look their best while working out? Compression style workout clothes are perfect for the most stylish ladies at the gym that want to look and feel their best.
In addition to the aesthetic features of this attire, many women prefer to wear compression leggings and compression tops due to the performance features associated with the clothing. When you're running a race and that extra .01 of a second counts, not having to worry about excess fabric can mean the difference between 1st and 2nd place. Your clothing choices can have a direct impact on your ability to get to that finish line in time.
#5. Pockets
Pockets! Pockets! Pockets!
A long-debated issue with women's clothing, in general! One of the best features that recently popped up with workout clothing for women is the increase in the use of pockets on leggings and sports bras alike.
How are you supposed to work out while juggling your phone, keys and credit card? With great difficulty! Until recently, leggings and sports bras lacked one of the most basic and essential things we take for granted – pockets. Workout leggings and sports bras with pockets are essential items for your gym wardrobe! They will allow you to carry everything you need without worrying about carrying them from machine to machine and are super convenient.
What's even better is you don't have to sacrifice style or comfort to get a great active wardrobe. With phone pockets appearing on sports bras and leggings with beautiful designs and patterns, you can have the best of both worlds – function and style.
The Bottom Line
These are just some of the exciting trends and features that we are seeing emerging in the activewear industry. With every passing day we are seeing more and more examples of activewear, "out in the wild," thanks to the popularization of athleisure. We know that this is going to continue, and with it, the evolution of activewear will too continue!
About Shannon Clark
Shannon holds a degree in Exercise Science and is a certified personal trainer and fitness writer with over 10 years of industry experience.