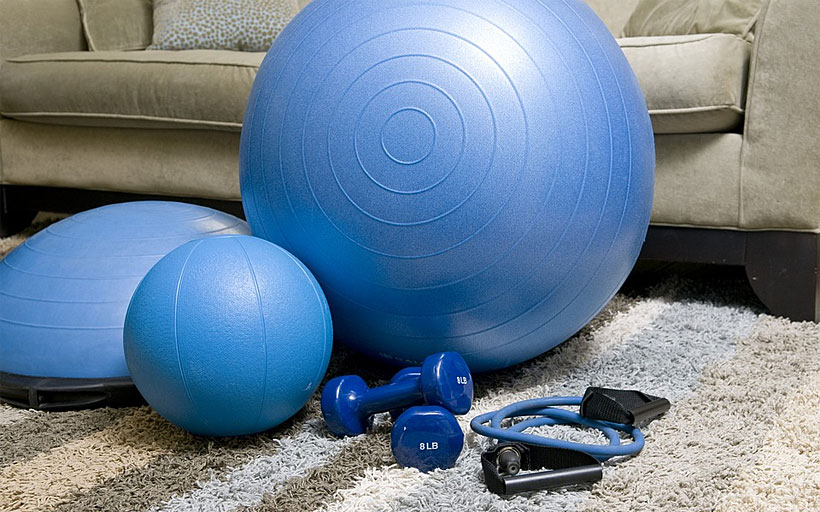 Owning a gym membership can be immensely beneficial. However, it also comes with several headaches. To fully enjoy your gym membership, you have to travel back and forth to the gym. This is going to cost you a lot of time and some money in gas.
Wouldn't you prefer to skip the headache and ensure that you're able to exercise any time of the day or night? If so, you should definitely consider establishing your own home gym.
Home gyms allow you to save not only in gym membership fees but also in gas and time.
The only issue is trying to find out what the best home gym equipment is for you and which ones you should buy and should not buy.
Using several fitness and strength training resources including Fit Fitness Magazine and others, we've compiled a list of several home gym essentials that most beginners should start off with when building their home gym.
Let's take a look…
7 Essential Pieces of Home Gym Equipment for Beginners
Here are seven pieces of home gym equipment that we've determined during our research to be the most popular, especially for beginners setting up their first home gym.
#1: Barbells
First and foremost, you will definitely want to invest in some good barbells. This type of equipment is absolutely essential for anyone who is interested in building muscles.
With barbells and the associated weights, you'll be able to perform an abundance of exercises, including bench presses, squats, deadlifts and so much more. The good news is that barbells are pretty inexpensive. You'll have plenty of options to play around with. You can buy the barbell and weights or you can buy a barbell that is a specific weight.
To increase the versatility of your exercises, it is often best to buy the bar and weights separately.
#2: Workout Bench
A workout bench for home is another fantastic piece of versatile equipment to add to your personal gym setup. Workout benches come in a variety of categories including: adjustable, flat, Olympic, and specialist benches. This means there are plenty of options and configurations to choose from depending on your needs.
Your workout bench is a great compliment to other items on our must-have home gym setup list. For example, you can perform dumbbell chest flies and presses or use your barbell for the classic bench press,
#3: Power Rack
A lot of bodybuilders do not have a spotter around at all times. This can make their workouts much more dangerous. The good news is that there are some ways to perform squats and bench presses without a spotter. You'll still want to move forward with extreme caution, but a power rack can help. As the name suggests, the rank is capable of holding the entire weight of your barbell and weight plates.
The power rack will elevate the barbell off of the ground making it much easier for you to get into position and pull off those demanding lifts.
Plus, you'll be able to use the power rack to engage in bodyweight moves including pull ups and more.
#4: Dumbbells
Dumbbells are probably the most basic exercise equipment you could ever own. You might laugh at the idea of owning dumbbells, but they'll prove to be immensely beneficial in the long run. With dumbbells, you'll be able to focus more intensely on specific muscle groups.
Dumbbells have evolved significantly over the past few years. Today, it is possible to buy dumbbells of certain weights. Or, you can buy adjustable dumbbells. The possibilities are pretty much endless. If you're serious about developing muscles and getting fit, you really owe it to yourself to buy dumbbells. They'll make a big difference in the long run.
Adjustable dumbbells are a good option for people with limited space. Of course, they're more expensive. If you want to save yourself some money and do not mind some limitations, you should go with conventional dumbbells.
#5: Cardio Machine
Even if you intend to build muscle, you'll still want to perfect your cardio. The good news is that you have plenty of options at your disposal. And, there are various price ranges for you to choose from. If you want the cheapest cardio workout from home, you will definitely want to buy a jump rope.
Once you've managed to get the rhythm down, you'll be able to burn a lot of calories with your jump rope. If you've got a little extra money to spend, you should contemplate buying an elliptical, stair stepper or a treadmill. If you want to build your arm muscles along the way, a good rowing machine is well worth checking out.
Again, the possibilities are endless. Be sure to choose the cardio machine that best suits your budget and fitness goals. If you do not want to spend any at all, you can always run in place or do jumping jacks. Always be willing to think outside of the box.
#6: Medicine Balls
The medicine ball is often misunderstood. It might be suitable for therapeutic exercises, but it is a great addition to your workout regimen. With a good medicine ball, you'll be able to greatly improve your functional strength. At the same time, it is possible to incorporate the medicine ball into your cardio exercises. If you're interested in making your pushups or pullups a little tougher, a medicine ball will do the trick. Even better is the fact that they're so inexpensive.
Suffice to say, you should definitely buy a medicine ball or two. They'll come in handy and they'll make your exercises a little more exciting.
#7: Kettlebells
Over the past few years, kettlebells have gained in popularity. At one time, they were overlooked. That changed when the top athletes began using them frequently. Now, it seems like everyone and their mother wants to reap the rewards of working out with kettlebells. There are plenty of excellent reasons for this. Kettlebells can be very helpful for many years and they're very affordable. First and foremost, you can use the kettlebell to improve your functional strength. They can also help enhance your cardio and advance your flexibility. More importantly, kettlebells are loads of fun.
Whether you want to work on your cardio or your strength, you can guarantee that your kettlebell is going to keep you entertained. Just remember to buy one or two. A heavier kettlebell is best for building strength. A lighter one will be better for working on your cardio.
#8: Storage System
Nothing is worse than having your items strewn across the floor. You'll never be able to access what you need. Plus, you'll be creating a trip hazard for yourself. With that being said, you'll want to take steps to ensure that your workout equipment remains organized. Thankfully, you'll be able to do just that by investing in a good storage system. There are plenty of different types. You can find racks that are designed to hold weight plates and others that are designed for dumbbells. The dumbbell racks are definitely a good option, because they'll elevate the weights off of the ground.
This can help you get your workout started without needing to bend over and risk injuring your back. Be sure to buy a storage system or two to make your life a little bit easier.
Did we help you point out the must have home gym essentials? Share with your friends and help them find the best home gym equipment too!
About Shannon Clark
Shannon holds a degree in Exercise Science and is a certified personal trainer and fitness writer with over 10 years of industry experience.