Body Fat Percentage / Body Composition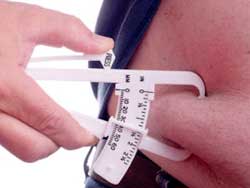 Your body fat percentage has nothing to do with your BMI.
BMI or Body Mass Index is a statistical measure for populations only, not individuals.
For example, if the government of this country wants to determine if a large number of the population are overweight, it would average out the BMI.
You can calculate your BMI by dividing your weight by your height squared. You can also determine your body fat percentage using a specialized calculator.
Body fat percentage or body composition measurement is a very important and crucial aspect of any fitness program.
You Get your Body Composition Measured before any Serious Attempt at Conquering your Fitness Goals
---
Does Body Fat Percentage of Men & Women Differ?
Even though men and women have the same muscles their average percent body fat differs. This is due to hormonal differences primarily. The following chart states different ranges of body fat percentage. If you are looking for information about women, please visit the women's average percent body fat page.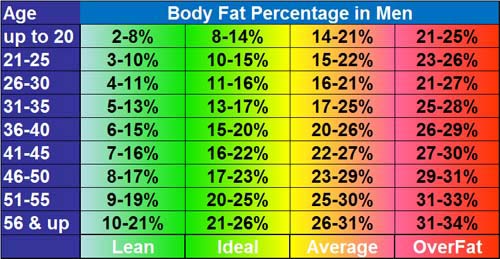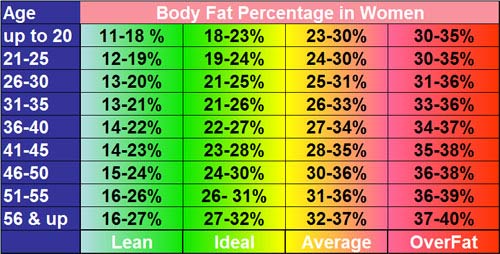 Interpretation of the Average Percent Body Fat Chart
Lean:
Generally, unless you naturally fall in this category you will not feel comfortable when your body fat percentage is this low. If your body fat percentage drops below the lowest level on the chart, you could run into serious problems. We have a level of essential fat. This essential fat is required for life, without it we would die.
Ideal:
This is the category you want your body fat percentage to fall in. You will feel comfortable in your own body, look and feel best when your body fat is in the ideal category. Your body will have good muscle tone and definition.
Average:
If your body fat percentage falls in the average category you will most likely feel good about your body weight, but probably want to lose a couple pounds and tone up. Some people whose body fat falls in the average category feel fine and don't want to lose any body fat.
Overfat:
You simply need to lose body fat. If you maintain an overfat body fat percentage for long periods of time, you run the risk of developing many health problems. Secondly you will not look your best when you have a high body fat percentage.
If You are Not Happy with Your Body Composition Do you Have Many Options ?
Many people who have tried to lower their body fat percentage have failed. The top method of reducing percent body fat is dieting. Unfortunately the diets which most people try are only short term solutions and they end up gaining the weight back. If all your diets in the past have failed you should check out some of the best diet options by clicking this link. Being on a diet is not the best solution.
---
Percent Body Fat can be Reduced Most Effectively with the Combination of Nutrition & Exercise
Diet should properly be referred to as nutrition. When the word diet is mentioned it is associated with a short term change in eating habits with the goal of losing weight. You can never underestimate why nutrition is so important.
Exercise is the key to speeding up the process of lowering your body fat percentage. A combination of cardiovascular exercise and weight training will work wonders for your body composition and keep you healthy and living a long healthy life.
---
Read about Exercise which will Lower your average Percent Body Fat
About Michael Behnken
Mike Behnken is a personal trainer who holds multiple NASM certifications and a MS in Exercise Science. Mike loves fitness, travel, and photography among many other interests.