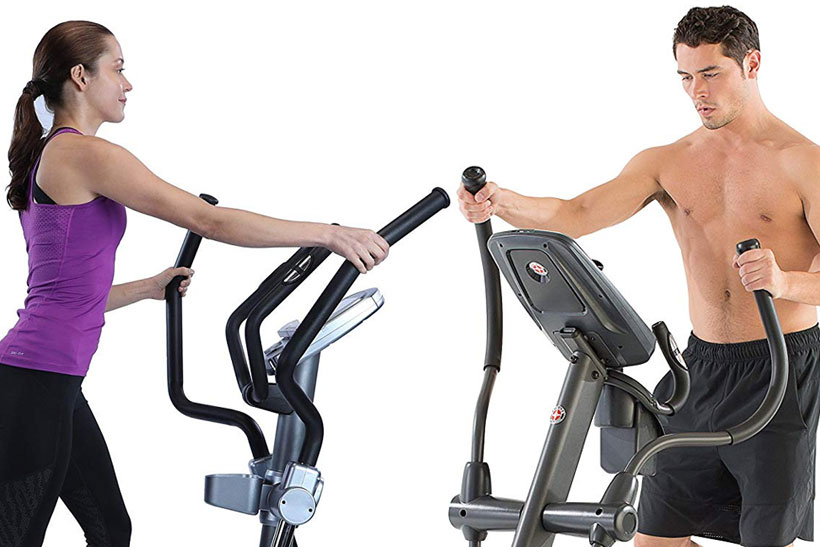 Elliptical machines give you the chance to enjoy a low-impact workout while also exercising both your upper and lower body. They are also very forgiving to aging joints and provide you with a great aerobic exercise to keep your lungs and heart healthy. Plus, they help you burn significant amounts of calories for weight loss.
Top 7 Benefits of Exerpeutic Elliptical Machine
Let's explore some of the benefits offered by elliptical machines…
#1. Low-Impact Exercise
Elliptical trainers minimize the stress and strain exerted on your legs via an elliptical motion. Remember, your feet won't leave the pedals at any point. It's actually like walking in midair. When you walk or run, however, every step you make triggers a jolt on your body. It's believed that runners impact over 2.5 times their body weight. And this not only affects the leg joints but also the lower back. While walking causes less impact, working out on the exerpeutic elliptical machine is much better.
#2. Weight-Bearing Exercise
As compared to a stationary bicycle, an exerpeutic elliptical machine provides a weight-bearing exercise. And this plays an important role in preventing the onset of osteoporosis.
#3. Dual Action Workout
Elliptical trainers offer a combined upper plus lower body workout. They're actually the only gadgets that can simultaneously work for numerous muscle groups. That's why most people prefer using them as cross-trainers.
Exercising with an elliptical trainer helps you get a workout that involves the quadriceps, glutes, triceps, hamstrings, biceps, chest, and the back. So, while exercising you may want to distribute the resistance across your lower and upper body. Most people tend to place more resistance on their lower body, which actually deprives their upper body of a good work out.
#4. No Reverse Action
With the elliptical machine, there's no reverse action. The pattern of the elliptical movement often mimics the natural path of your ankle, knee as well as hip joints while running, walking, or jogging. To further minimize the strain on your joints, most elliptical trainers are outfitted with articulating foot pedals which conform to your stride. Even more, the pedal is designed in such a way that it automatically adjusts to match the angle of the elliptical stride.
#5. Reduced Maintenance
Elliptical trainers often demand low maintenance. Because of the low-impact elliptical motion and the reduced number of moving parts, these machines are less likely to require servicing. You don't need to worry about belts, bearings, motors, or rollers burning out.
#6. Increased Calorie And Fat Burning
By exercising more of your muscles, you'll actually be toning more of your body. Plus, you also maximize your energy expenditure. With elliptical trainers, it's easier to burn more calories plus the fat in less time. Elliptical workouts are also believed to cause reduced rates of exertion. You're actually exercising alto harder than you'd normally perceive.
#7. Diverse Workout Programs
Just like a treadmill, exerpeutic elliptical machines are equipped with numerous exercise programs, which mimic hill climbing through alternating resistance. Besides, they come with wireless heart controls that allow you to optimize your workout by allowing your heartbeat to control the resistance level.
The Bottom Line
For most people, it's the dual action workout that makes elliptical trainers so appealing. Plus, there are so many other attractive features you'll get by purchasing an Exerpeutic Elliptical machine.
About Shannon Clark
Shannon holds a degree in Exercise Science and is a certified personal trainer and fitness writer with over 10 years of industry experience.