Top 5 Best Affordable Home Exercise Equipment to Build a Versatile, Inexpensive Home Gym
Building an awesome home gym doesn't have to cost you your life savings, it also doesn't have to be difficult.
With thousands of exercise products to choose from it can be a bit daunting though, especially if you don't know where to begin.
But have no worries, I'm going to show you five of the best affordable home exercise equipment that will help you build a killer, versatile home gym.
Paired together these five fitness products will have you sculpting the ultimate body of your dreams in the comfort of your own home in no time.
So without further ado, here are the top 5 best affordable home exercise equipment products to build an inexpensive but versatile home gym.
 Top 5 Best Affordable Home Exercise Equipment
#1. Bowflex SelectTech Dumbbells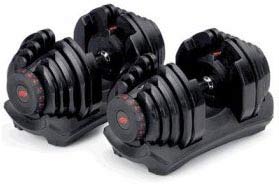 Talk about versatility. There is nothing more versatile than a plain old fashioned set of dumbbells. Unfortunately not many homes have the space required to store a whole set of dumbbells.
Bowflex SelecTech dumbbells solve this problem!
Each dumbbell is adjustable by 2 dials. All you have to do is turn the dial to the desired weight and lift the weight up out of the base. You now have the amount of pounds you selected for each dumbbell, it's that simple.
Resistance training is key for elevating your metabolism to burn fat while you maintain and build your muscle mass. Dumbbells offer a limitless amount of exercises in which you can perform at home in the limited space you have for your home workouts.
Dumbbells can be combined with any other item on this list to create effective and fun workouts that will allow you to get great results at home.
Bowflex Currently Offers 3 Varieties of SelectTech Dumbbells
The 552 model adjusts from 5 to 52 pounds per dumbbell and a pair retails for around $350.
The 560 model adjusts from 5 to 60 pounds per dumbbell and a pair retails for around $500.
The 1090 model adjusts from 10 to 90 pounds per dumbbell and a pair retails for around $600.
All models including the 1090 cost less than a complete set of quality dumbbells, and best of all they won't eat up as much prime real estate in your home compared to a standard set of dumbbells either. A stand and other Bowflex accessories are sold separately as well if you want to take things up a notch.
Bowflex SelectTech Dumbbells Review  |  Buy Bowflex SelectTech Dumbbells

#2. Stability Balls

Stability balls or Swiss balls have been mainstream now for a few years. Unlike most fad products which eventually die out, stability balls aren't going anywhere anytime soon.
Why? Because they work. Stability balls are a very effective exercise tool to have in your home gym. There's a reason you'll find them in just about all commercial gyms.
Swiss balls allow you to work your core and abdominals very effectively. You can also do exercises for your entire body as well on stability balls.
You can use a Swiss ball with any other home exercise equipment on this list to create fun, challenging and effective workouts in the privacy of your own home.
At your home, a stability ball can also function as a chair which will cause you to use better posture than usual.
What you may not know is all stability balls are not created equal. A good stability ball such as the Duraball pro will cost around $50. The extra cost as opposed to cheap stability balls (~$15) is well worth it as the Duraball pro will last longer and inflates to a higher pressure.
This higher pressure will allow a good base for dumbbell exercises easily handling a pair of 100 pound dumbbells and a 250 pound individual.
Additional Stability Ball Information   |   Buy Stability Balls from Amazon
#3. Heavy Resistance Tubes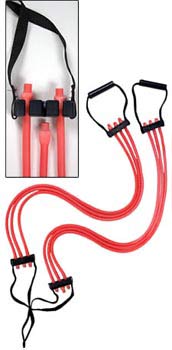 Resistance training does not have to include weights such as dumbbells, cables, barbells or even body weight. Resistance tubes offer a different form resistance exclusive to tubes.
Because the resistance tubes are elastic the further they stretch, the more resistance you will encounter.
This is beneficial because with dumbbells, cables and body weight the resistance is usually constant for the entire range of motion.
Tubes allow you to focus on the end of the range of motion which is often neglected during dumbbell or cable resistance exercises.
The best part about resistance tubes is they take up almost no space and can be stored anywhere. You can take resistance tubes when you travel for business or vacation.
You may have used resistance tubes before and found they failed to offer significant resistance. It is true, old school resistance tubes which you can get in the store for around $10 do not provide enough resistance to use for an effective home workout.
There are heavy resistance tubes now which offer a great way to challenge your entire body. The JC predator is a great tool to include in your gym workouts or home workouts. It is an adjustable 3 tube setup which allows extremely heavy resistance with all 3 tubes attached.
The extremely heavy resistance of the 3 tubes will allow you do heavy full body exercises where you have to control your own body weight which is supported by the tubes.
You can lessen the resistance by taking 1 or 2 of the tubes out which will allow you to perform isolation exercises for your weaker body parts. The best part about resistance tubes is you can use them along with any other item on this list to challenge your body and get results.
You can pick up some cheap limited resistance tubes in your local sporting good store for around $10 each or you can order the very versatile, adjustable JC predator resistance tube setup for around $50 online. A must have for any home gym.
Resistance Tube Exercise Videos      |      Buy Heavy Resistance Tubes
#4. BOSU Balance Trainer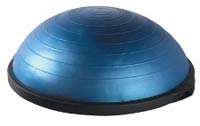 If you have never heard of or used a BOSU balance trainer or BOSU ball you are really missing out. The BOSU balance trainer was invented in 1999 by a personal trainer.
Most gyms have a set of BOSU balls available for members to use and some have classes. If you want to bring fitness to your home a BOSU ball would be a solid choice.
At first glance you may not be able to see many uses for BOSU which is an acronym for Both Sides Up. Therefore you can use the both sides of the BOSU to perform a variety of beginner to challenging exercises.
The BOSU balance trainer is very versatile and allows you to perform many different exercises. You can also perform many different types of exercises such as resistance, balance as well as explosive plyometric exercises!
You can use the BOSU alone or in combination with any other pieces of home gym equipment on this list. The BOSU is more versatile than the stability ball because you can stand on it.
You can pick up a BOSU balance trainer from any sporting goods store at around $150. If you order online you can expect to pay less than $100.
Additional BOSU Ball Information    |    Buy BOSU Balls from Amazon
#5. Total Gym

Many…. actually most as seen on TV products are not worth what they cost. It's more accurate to say most as seen on TV products are downright laughable scams which serve no purpose and are a total waste of your hard earned money.
The total gym on the other hand is a fantastic product. I've included it at the bottom of my list because it is more expensive than all the others items and it takes up a lot of space, which not everybody has. Some models fold up for storage which can save space but when you set it up you will need a good amount of space at home to use a Total Gym.
The Total Gym is just about what it says. You can perform a full body workout using the Total Gym alone just like you had a total gym at your house. Even better, you can use a combination of calisthenics, floor exercises, and some of the other exercise equipment on my top 5 best affordable home exercise equipment list to get a tremendous workout at home.
The total gym is adjustable and great for people of all fitness levels. The resistance or weight during total gym exercises is based on your body weight. This allows you to work your core a little more because most exercises require core stabilization.
Total Gym Exercise Videos     |     Buy a Total Gym from TotalGymDirect.com
:) Honorable Mention:  Nintendo Wii / Wii Fit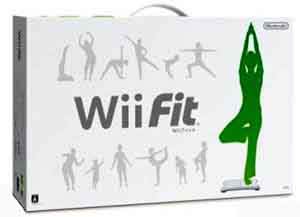 The Nintendo Wii or the Wii fit is not a fitness first device. You will not go from "flab to fab" overnight or even with time using the Nintendo Wii fit.
With that out of the way the Nintendo Wii and the Wii fit can be a great way to introduce home fitness into your lifestyle.
The Nintendo Wii makes physical activity, albeit a small amount of physical activity fun. The association with fun and physical activity can go a long way in kids and adults alike.
If physical activity is associated with fun, according from Pavlov's dog research of the 1800s a person who repeatedly has fun playing the Wii would begin to enjoy exercise.
While the previous statement may be a push the new Wii fit is designed to help people get fit. Surprisingly enough, it is actually a great way for beginners to get back into an exercise program.
The Wii fit program provides a lot of pretty good information about the sedentary body and how it can improve posture, balance and body composition.
The technology is very advanced as the Wii fit can weight each side of the stand-on sensor individually.
Another positive with the Nintendo Wii fit is the price. It retails for only $100 which is definitely a good deal as it does some of the things that expensive kinesiology laboratory equipment does!
Popular Science Article w/ Ask the Trainer     |     Buy Nintendo Wii Fit
The Bottom Line: Best Affordable Home Exercise Equipment
While there are literally thousands of affordable home exercise equipment products to choose from to build an inexpensive home gym, these five products are a fantastic starting point. Together they pretty much give you everything you need to get in great shape in the comfort of your own home.
Out of all these products, the Total Gym is going to be the one that really completes your home gym setup. I highly recommend it. It will likely be the biggest investment on this list, however, don't let this deter you. Even if you are on a budget, there are discounted Total Gym models available. You can also opt for an older basic model for a fraction of the price of a newer top of the line version.
Shop around, you will be surprised what you'll find both on and offline. Be sure to check out Craigslist in your local area, especially if you live in or near a larger city. Exercise products tend to have a fast turnaround, especially during the months following the new year. I can't tell you how many times I've come across great deals on used Total Gyms and exercise products on Craigslist. This is especially the case when peoples New Year's resolutions go the way of the dodo.
As a bonus, try adding the Nintendo Wii Fit to your collection of home fitness products to add that extra element of fun. Fitness isn't exactly glamorous for many of us so adding a dash of fun into the exercise mix isn't a bad thing. Obviously this tool isn't going to get you ripped out of your mind but it is no doubt fun, especially if you have kids and want to introduce them to the fitness lifestyle!
About Michael Behnken
Mike Behnken is a personal trainer who holds multiple NASM certifications and a MS in Exercise Science. Mike loves fitness, travel, and photography among many other interests.