When Does Britney Spears Workout?
Like other A-list celebrities, Britney Spears works out whenever she can!
Unfortunately for Britney often times when she has free time for a workout she is interrupted by swarms of paparazzi (as evidenced by the picture).
Britney has also been known to train with numerous celebrity personal trainers who have all raved about Britney's up-beat attitude and intense workouts.
The kind of movements which Britney Spears does during her personal training sessions are very similar to what thousands of trainers are putting their clients through each day.
Many people were shocked to see Britney Spears fat. This shouldn't have been a shock at all because even though Britney was in tremendous shape, she also had 2 children in a 1 year span.
The average woman gains around 30 pounds during pregnancy and for Britney to have 2 children in a 1 year period and then get back into decent shape to perform is a feat in itself.
Once You Establish Your Goals, You can Create Your Own Britney Spears Workout to Fit Your Unique Schedule and Lifestyle
---
How does Britney Spears Workout?
Britney's Main Form of Physical Activity is Dance
Britney Spears is an extremely busy person. When she's not making an appearance she is either in the recording studio or on stage performing.
Britney can give most of the credit for her fabulous physique to long hours dancing when she was first becoming a huge celebrity and making it big.
Britney Spears has been a dancer from the time she was a small child.
Dancing is not only a great cardiovascular activity, it one of the very best exercises which targets all the muscles in your entire mid-section.
Any personal trainer would notice right away from looking at pictures of Britney Spears dancing and moving around that she has well developed core musculature.
You can see Britney Spears movements while she's dancing are multi-planar. Multi-planar means no movements are straight forward, front to back, side to side, but they are combinations of many different motions.
This Highlights the Problem with Most People's Workout Programs
Most people select exercises which are only in one plane of motion. Consider the standard crunch. The standard crunch is only working a single small muscle group in one plane of motion.
The crunch is a very ineffective exercise if you want to get in shape and achieve abs like Britney Spears had in her prime.
Compare it to a step-up with medicine ball twists in the sample exercise video.
The step-up to medicine ball twist not only works the large leg muscle group and your obliques, but your core, arms, and shoulders have to stabilize.
Like most celebritie's workouts, celebrity personal trainers make every exercise count. Celebrities are extremely busy people with little time for exercise so every exercise must attempt to have as much effect on the body as possible.
---
Creating Your Own Unique Britney Spears Workout
Here you will find the pieces to the Britney Spears workout puzzle. Britney does not want to bulk up. Britney needs to be toned, and flexible to be able to perform on stage and pose for magazine covers.
Here are the 3 Most Important Aspects of a Britney Spears Workout
1. Cardio Workouts
We already discussed that Britney's majority of cardio comes from her dancing. If you don't like to dance or don't have the motivation to dance, you can learn some interesting high intensity cardio workouts which will have the same effect as dancing.
2. Abdominal Exercises
When Britney Spears is not able to dance she has to compensate by performing many different abdominal exercises from different angles. Click on your mid-section target area and perform dozens of exercises designed to flatten your belly. Find free how to instructional ab exercise videos just like Britney Spears ab workout.
3. Combination Exercises
Don't waste your precious time in the gym doing ineffective exercises. Watch free workout videos of exercises which use multiple muscle groups. Get twice the work done in half the time and get twice the results just like Britney Spears with one of her many celebrity personal trainers.
Get the Benefits of Dance at Home with the Most Popular Dance Workout DVDs
---
Are There Any Secrets to the Britney Spears Workout?
There have Never been Secrets in the Fitness World
The only limiting factor you or anybody who wants to get in shape with Britney Spears workout is what you don't know.
The basic principles of weight training must be followed if you want to get results. Set goals, set your starting point and then make constant progress.
When you stop making progress, stop, rest and try something new. If you are in a similar situation as Britney Spears you may want to use the Britney Spears workout but if your goals and situation are vastly different, try to find what is right for you.
---
A Britney Spears Like Workout Can Help You Get in Great Shape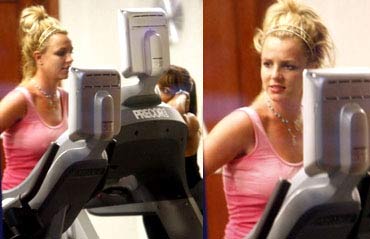 Even Britney Spears Could Use More Information About Workouts
Mike Behnken is a personal trainer who holds multiple NASM certifications and a MS in Exercise Science. Mike loves fitness, travel, and photography among many other interests.