What if life goes wrong? Charlie's story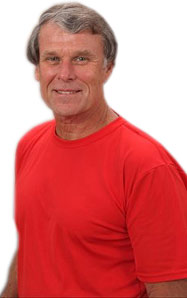 Introduction
The idea that we will live forever is one that we carry within us when we are young – and nothing seems beyond our ability or knowledge – or reach. Life unfolds in many different ways for each of us as we grow into "our skins" and the surprise is that sometimes it goes incredibly well. At other times our lives can take a terrible turn and what we do at that moment of discovery determines how we face the time to come. In 1957 my family moved to Oahu. I was 10 years old at the time. Swimming programs did not exist on the windward side of the island so my parents suggested I try out for Little League baseball. I ended up playing for three years against some very good players – one of whom would go on to fame as a multisport athlete at Punahou School – the school I ended up attending for the final three years of high school. That player was Charlie Wedemeyer. He played three sports and was an all-star in all of them.
Charlie and I knew each other but I wouldn't say we were friends – he played in another universe from all of us "mere mortals". Charlie graduated in 1965 following my freshman year at Syracuse and went off to Michigan State where he played varsity football for the Spartans. His years of glory were definitely in high school, however, and some years later he was voted the athlete of the decade for the 60's in all of Hawaii – an honor that would keep Charlie's name in Hawaii sports history forever. In the years following his graduation from Michigan State he settled in a town in northern California and became the varsity football coach at the local high school. Life had a surprise in store for Charlie in the early 70's – a surprise that would change his life forever.
Charlie's Story
Charlie began to sense something was wrong before his 30th birthday – neurological and physical changes and symptoms he couldn't explain. The progressive nature of the symptoms – balance issues, muscular weakness, and other related challenges prompted a series of visits to medical professionals.  Eventually he was given a diagnosis of "Lou Gehrig's" disease – or "ALS". Charlie had been delivered a "death sentence" since there is no known cure for the disorder. His life as he knew it "was over" – only Charlie chose not to look at it that way. He continued to do what he loved and even though his symptoms did progress he retained his "fighting spirit" – the one that had made him the special athlete he had been during his athletic career playing the games he loved. Charlie had a family – especially a loving wife that would not leave him – ever. Lucy had been his soul mate during his days at Punahou and their love never waned – even after they knew Charlie would never be the same again.
Charlie knew what was in store following his diagnosis – including the fact that he would lose his physical ability to move, speak or feed himself and eventually the progression of the disease would lead to organ failure – and death. Over the years that followed, Charlie lost his ability to walk, speak, and move without help from Lucy and his support team. He continued to coach through the help of surrogates including Lucy who learned to read his mouth as it moved and she subsequently learned to convey his instructions to the team. His players felt blessed to have such a role model as Charlie and they continued to prosper under his leadership – until he could no longer be with them.
He was honored in Hawaii on a number of occasions by Punahou and the sporting community of Hawaii and given additional honors for being an inspiration to the world. His story was told in a documentary in the 90's (I believe) but finally, Charlie passed away in 2010 at the age of 64 (long beyond what his doctors believed he could live). The only reason that I can think of that made his longevity possible was that Charlie ALWAYS had a REASON TO LIVE – in spite of the pain and (I am sure)sadness that must have accompanied his every waking hour. His body eventually failed over time and there was nothing he – or anyone – could do about it – nothing. The athlete that had once been so special had to live the majority of his life in a wheel chair, unable to speak or take care of himself – and yet his life was a triumph.
I have often asked myself how would have I lived my life if I had been in Charlie's place? Would I have been as resilient and strong as he had been? Where DID that strength – and resolve – come from that helped him overcome the many obstacles in his life and triumph in the end? The answer lies in his story – a story that demonstrates through his ACTIONS – that shows CLEARLY – the strength of the human spirit. He finally passed away, yes, but he left a lasting legacy of love, inspiration, and hope that is carried to this day by those he loved and served – his former teammates, players, colleagues, the school he loved and, of course, his devoted family.
The End – Or is it The Beginning?
From the time I first met Charlie when we were both in Little League – and in Pop Warner football as well, I knew he was a special player. We never became close friends but I always respected the way he played the game – and his enormous talents. At Punahou he was a starter on the football team at quarterback, a starter at guard on the basketball team, and finally, a starter on the baseball team for his three years of eligibility. He played every sport as if it was the only one he would ever play and was (through his natural talents and work ethic) phenomenal at everything he did. Losing that ability later in life must have been extremely painful for him. The only thing I can equate that feeling to is if my ability to run was taken away from me. How would I be? Would I triumph like Charlie did or would I "give up"? I hope I would "find a way" to be another kind of Nick – maybe the speaker or teacher? The point is that Charlie NEVER had the chance to be a "healthy ager" because it was taken away from him early in life and yet his life mattered. It mattered A LOT to those who loved him and worked with him (and valued him and his fighting spirit) every day!
When times get tough for me or I am not feeling particularly strong – or confident – or loved – I think of Charlie and how his life changed the lives of so many people while knowing he had lost so much in his own life. I guess the point of Charlie's story is that "stuff" happens unexpectedly to ALL of us during the course of our lives, and it is in HOW we RESPOND to what life brings us –and NOT the circumstances themselves – that matters. Healthy aging is a GIFT – a gift of choice – and faith. Charlie had the most important part RIGHT – faith – faith in himself, his purpose, and his love for his family and the work he so dedicated himself to doing. I call that living "in spite of the circumstances of life" and the choices Charlie made throughout his life confirmed that. He was a winner over the course of his entire life and my hope is that I will carry his legacy forward in my OWN life and touch lives as deeply as he did with his!
Website: HealthyHappyFit.com      Email: [email protected] Nick is an author, teacher, and speaker and has been a certified personal trainer and lifestyle and weight management consultant since 1992. He is currently recognized as a master trainer by the IDEA International Health and Fitness Association. He has been a runner since 1964 and has accumulated over 60,000 miles in that time.