Why ALL Trainers Need Personal Training Certifications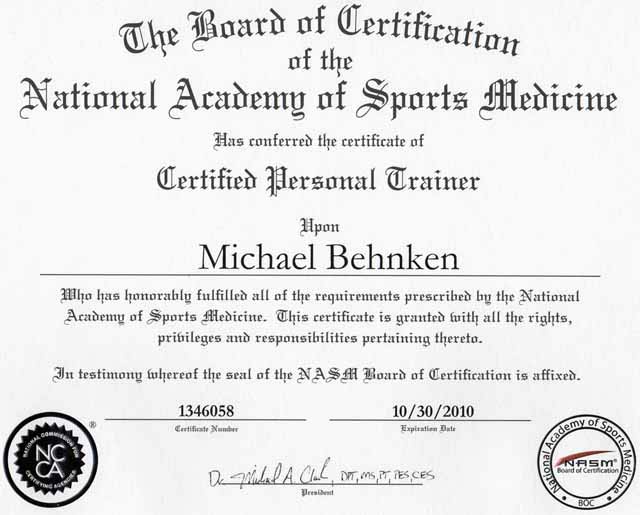 There are no laws or regulations for determining who can call themselves a personal trainer. Personal trainer certifications have emerged as a way for someone to establish credibility as a certified professional.
Almost all gyms, spas, fitness centers and athletic departments require personal trainer certifications for anyone to be hired at a personal trainer position.
Certifications are a Must…
…that is, if you have plans for success as a personal trainer. Even if you have years of experience in the gym and even one or two college degrees, a certification is pretty much required for you to be considered a personal trainer. Personal trainer certifications automatically give you the minimum credibility as a professional, giving you the right to use the title "CPT" or "Certified Personal Trainer".
The price of personal training certifications varies widely. Does this mean the more expensive the better? Probably not.
---
The Cost of Personal Trainer Certifications Depends on Several Factors
Workshop


Some certifications offer a workshop where you can learn firsthand some of the techniques you must know for the exam. Learning firsthand in groups is the best way for some to learn.
If you learn better live and in person, the group activities of personal trainer certification workshops will help you prepare for the exam as well as give you better experience which you can use during your career as a personal trainer.
Personal trainer certification exams usually follow the workshop. The advantage to this is that everything you just learned is still fresh in your mind. Workshops tend to be best for people with limited experience in the fitness industry but can benefit anyone.
Study Materials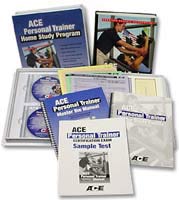 Books used to be the favorite study materials for certification exams but have since been joined if not replaced by interactive CD/DVD Rom presentations.
Some interactive study materials are usually included in the cost of personal training certifications these days. There are some materials which can be purchased at an extra cost as well.
The definite advantage of online or DVD interactive study materials is convenience. You are not bound the hours of the workshop and you can study at your own pace. This is invaluable if you are already a personal trainer and want more personal trainer certifications, work a busy job, or need to take care of kids at home.
Browse the Best Personal Trainer Books
Certification Exam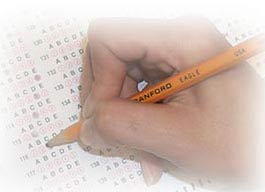 The certification exam alone usually costs around the same price as the entire workshop, books, and interactive study materials package. Some personal training certification organizations allow you to take the test without purchasing any of the study materials.
Some personal trainer certifications have a practical section of the exam. Since the practical section of the exam requires other people to be present, the cost of the personal training certification may be higher to account for the wages of the proctors, test subjects, and exam administrators.
Which Certification You are Earning
The cost of personal trainer certifications these days usually stays pretty constant, but different personal training certification organizations with different levels of prestige charge different prices.
More Expensive Personal Training Certifications are Not Necessarily Better than Lower-Priced Personal Trainer Certs
The best practice is to ask other trainers in your area or find out which certifications gyms in the area you would want to work recommend. Different organizations have different standards and preferences. You want to get the personal training certification which fits in best with the place you will conduct your personal training sessions.
---
Which Organizations Have the Best Personal Trainer Certifications ?
There are many personal training certifications to choose from. Choosing which certification is right for you takes some research, thought, and decision making.
The Top Tier of Personal Trainer Certification Organizations
NSCA
The National Strength & Conditioning Association was founded in 1978 and has two main certifications.
The CSCS or Certified Strength & Conditioning Specialist, which qualifies you as a strength coach, was accredited in 1985 and the CPT or Certified Personal Trainer was accredited in 1993.
The NSCA-CPT certification is known to have one of the most challenging exams of all certifications. NSCA certifications require a 4-year college degree.
---
ACSM
The American College of Sports Medicine was founded in 1954. Since it has been around the longest, it gets tremendous respect by employers.
The ACSM takes a clinical approach to fitness, as most of the material covered is more clinical than practical for the majority of gym users.
It has well-respected certifications for personal training as well as other professions such as cardiac rehab. Some ACSM certifications require a college degree in order to be eligible to sit for the exam.
---
The Next Tier of Personal Training Certifications are Very Good and Respected
NASM
The National Academy of Sports Medicine was founded in 1987 and has since established itself as the "new kid on the block" as far as personal trainer certifications go.
The NASM is fast-growing and may even become the largest personal trainer certification and continuing education provider. For those in the health and fitness field, especially exercise science graduates, NASM is a fantastic choice if you're looking to further your education.
NASM also offers many certifications including the CPT or Certified Personal Trainer, which is becoming one of the most popular and respected personal trainer certifications in the world today. NASM offers a slew of advanced specialization certifications too.
The CPT does not require a college degree but NASM advanced specialization certifications currently do, however, those without a college degree can still get an NASM advanced specialization certification as long as they get their NASM CPT certification first.
Finally, NASM even offers online college degree programs in partnership with major US universities.
---
ACE
The American Council on Exercise was founded in 1985 and is well-respected in the personal training community.
The ACE Certified Personal Trainer has a reputation as being the "easy" certification for beginners or old-school fitness trainers.
ACE has multiple certifications which include group exercise instructor certifications.
Other Notable Personal Trainer Certification Organizations
Certifications from other organizations such as the ISSA, AFAA, NFPT and Cooper Institute are also respected, but not nearly as much as the four big ones mentioned above. You can read more about the top 5 personal trainer certifications.
Remember: there are hundreds if not thousands of personal training certifications!
Some are as easy as taking a test online and getting your certification in minutes. Beware of anything that sounds too good to be true. If you are interested in a personal trainer certification, make sure you check with the place where you want to train and see which certifications are accepted.
Another good idea is to talk to trainers with the certification and ask if they recommend it. If you want the sure thing, the first 4 certifications are a definite sure bet to get yourelf a job as a personal trainer in most gyms in the country.
---
Besides Certifications, What Education Options Do Personal Trainers have?
There are many education options which are good for a personal trainer. Personal training certifications are just the icing on the cake if you have a college degree in exercise science, kinesiology, physical education, or a related field.  Check out the below resources.